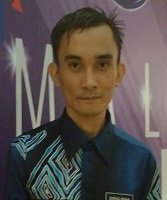 Dr. Sirhajwan Idek
Keningau Vocational College, Universiti Teknologi Mara, Keningau, Malaysia
Article
In the rapidly evolving world where job markets and industries are constantly changing, there is a need for graduates to be able to continuously adapt to changes in order to survive and thrive in the real world. Thus, I introduced an approach of introducing and integrating three areas: research, innovation, and entrepreneurship into our school. The main purpose is to nurture the students to be researchers, innovators, and entrepreneurs and therefore, become triple threats. My goal is to boost students' credibility, capability, and creativity in a way that enables them to see the relevance and significance of their education by providing them platforms and support they need to develop their ideas and demonstrate their skills and projects. 
These three areas are interconnected and interdependent and it is essential for the students to learn to explore, execute and expand their ideas or projects by continuously triangulating research findings, innovative features, and commercial values of a specific idea in order to turn it into a viable and profitable yet impactful venture. One needs to do research in order to examine the feasibility of a new idea (research) in which this idea must offer something new or different than the existing products or services (innovation) and finally the idea must have potential to be expanded in a way that it can make money and be useful to the community (entrepreneurship). 
Since I am a teacher at a vocational school. I will be citing my students as examples. In a country where people are obsessed with examination results, our students of technical and vocational education and training (TVET) tend to face stigma and stereotypes on them as graduates with an inferior level of skills and qualification. Consequently, these students often display low self-esteem and level of motivation which might harm their level of engagement in their study and subsequently, their performance in the real world. Furthermore, there is an apparent lack of readiness among the students to adapt themselves to the rapidly evolving world. The students might possess exceptional skills in their respective vocational programs (automotive, electrical, culinary, cosmetology, etc.) but they lack soft skills, communication skills, confidence, creativity, analytical skills, and problem-solving skills. They might not be able to stay relevant in the ever-changing industry they are trained for.  With their lack of skills in communication and problem solving, coupled with the stigma and stereotypes that they facing as TVET graduates, they might be subject to marginalization across the corporate community, workplaces, and universities. As a result of this approach, our students have accomplished many milestones in research, conferences, and innovation contests at the national and international levels. While it is still too early for me to claim that the approach has effectively developed triple threats that triumph in the real world, there have been positive outcomes at least at the school level.