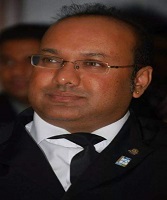 Jayganesh Dawosing
Lecturer, Department of Bhojpuri, Folklore and Oral Traditions, Mahatma Gandhi Institute, Moka, Mauritius
jayganesh1201@yahoo.com
Rambhajanam 
The Telugus celebrate a number of religious festivals; the most popular and famous is the Rambhajanam.  This festival is observed in honor of Lord Rama.  
The Rambhajanam is celebrated during specific periods of the year by the Telugu community either in the family among relatives, neighbors, and friends or in the Telugu temple where it is mainly organized by the village or locality Telugu socio-cultural associations, and other segments of the Hindu population also participate.  
A forty-day fast is observed before holding this religious ceremony.  On this auspicious occasion, Vaishnav rites and rituals are strictly observed before lighting the Stambhamu (lamps) for the Rambhajanam.  All participants go one by one towards the lit Stambhamu for offerings of coconut, oil, flowers and silver coins while groups of singers sing devotional songs in praise of Lord Rama and the Avatars of Lord Vishnu.  
Early in the morning, at sunrise accompanied by the priest, they walk to a nearby river in a procession carrying the lit Stambhamu.  They put out the lit Stambhamu and close the ceremony with rituals of sun worship.
AmmoruPanduga
Ammoru Panduga is a Telugu festival celebrated in honor of Goddess Kali to obtain blessings and protection against epidemics and natural calamities. The offerings to the Goddess consist of kanjee (boiled rice with salt and onion) and boiled gram.  Earlier, they used to sacrifice cocks and goats but now a big pumpkin is offered instead. On that day women carry brass pots filled with turmeric water and adorned with neem leaves in procession. An earthen lamp (mattideepam) is lit on the top of the pots.  They are followed by a man who carries a bamboo frame in the form of an arc, decorated with neem leaves, flowers and pictures of Mother Goddess in a procession to purify the village. The man represents the deity coming to destroy all evils and protect righteousness. The procession then proceeds to the temple of Goddess Kali by performing kolatam dance (stick dance) and singing to the beating of drums. 
Simhadri Appanah
Simhadri Appanah is celebrated by the Telegus in the month of April-May in honor of Narasimha- an incarnation of God Vishnu. It is celebrated both at home or in a mandiram (temple). The devotees fast for a period of 11 days or more. On the last day of the fasting period, a ceremony is held in which the priest or the participants take part in a procession carrying two quallous –lamps in the form of a torch that is filled with oil and saw wood and lighted.
During the procession, hymns in honor of God Vishnu are sung by the participants and offerings are made to Narashimha. At the end of the ceremony, a sacred meal is shared among the devotees.